Mission
Our Mission
---
EEQA's mission is to research and share information about the world's education systems and to facilitate the integration of individuals educated outside the United States into the U.S. educational environment and workforce.
EEQA achieves this by:
Comprehensive, high-quality research and certification for universities, colleges, education companies, and training institutions
Offers are assessed based on an individual's recognized degree equivalency
Accomplishes this mission through its academic accreditation and credential evaluation services and research programs
EEQA's academic accreditation includes universities, colleges, education companies, and training institutions in the United States and abroad through a voluntary, comprehensive and objective external peer review process to determine whether the institution or project meets the quality and effectiveness of the accreditation institution in the institution and/or education aspects of the standard. The EduTrust Education Quality Accreditation Association (EEQA) provides institutional accreditation to its members.
Our credential evaluation services help explain the educational background of those who studied outside the United States and require a statement of U.S. educational equivalency. With over 24 years of experience and over 150,000 assessments processed, EEQA is one of the internationally recognized assessment bodies for academic accreditation and degree equivalency. Our multinational and multilingual assessment team has many years of training and experience in international education. Therefore, EEQA accredits and evaluates through a thorough knowledge and understanding of the different structures of American, European and foreign education systems.
Our research programs support academic accreditation, credential evaluation services. Our accreditation and assessors are actively involved in international education research projects and keep abreast of changes in the education system. Our activities include not only institutional accreditation, degree equivalency assessments, writing books and papers, but also organizing or attending and speaking at relevant international educational conferences, seminars and symposiums.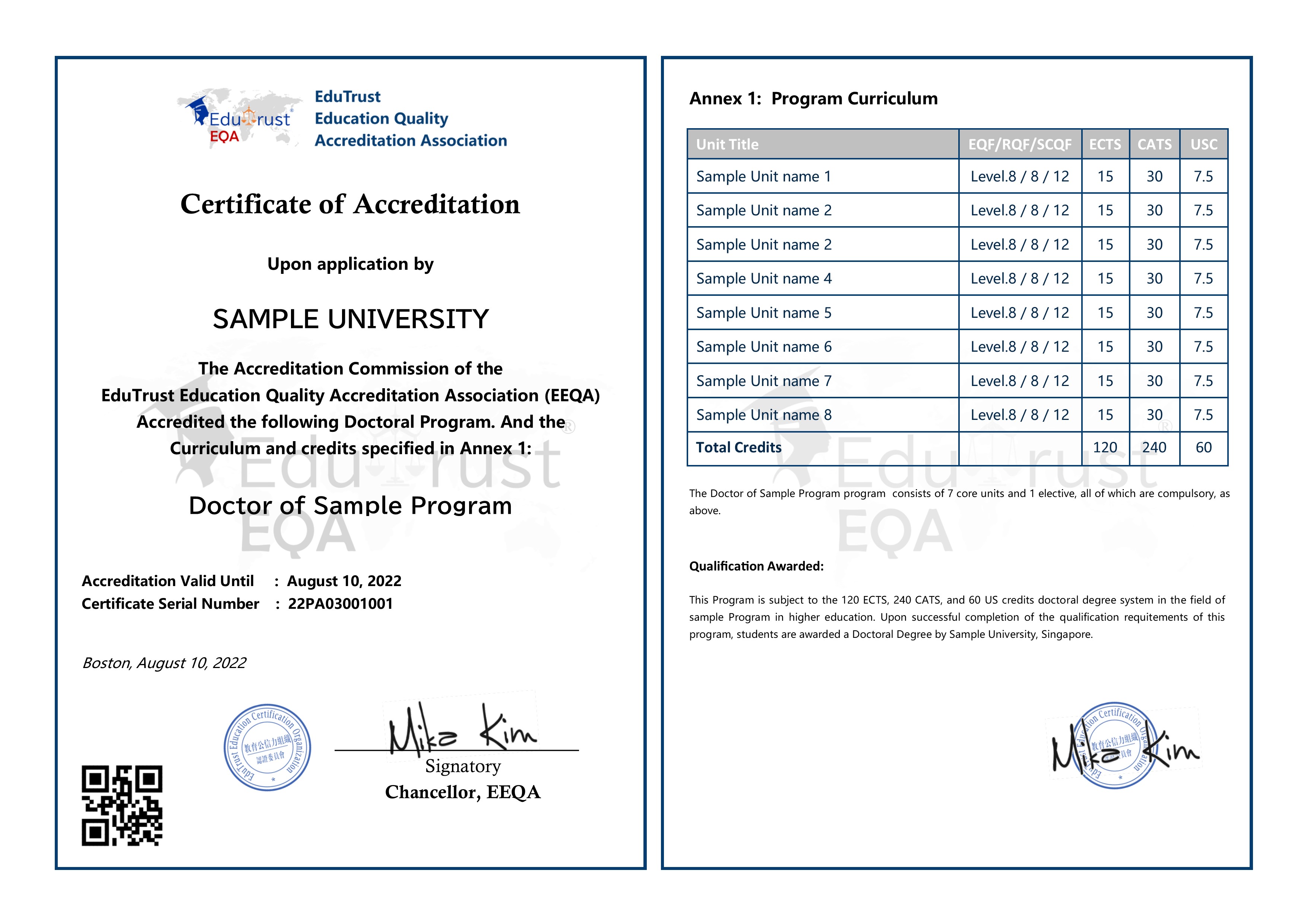 Sample Certificate